Avoiding the Costs of Poor Oral HealthJan 09 2018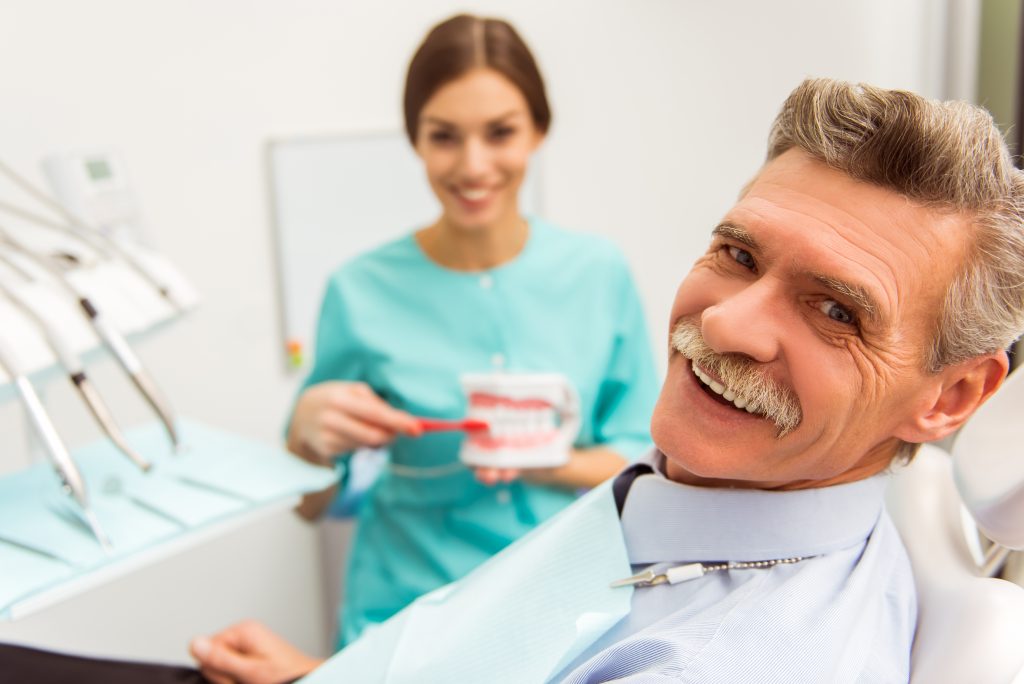 While the percentage of people who are investing in cosmetic dentistry continues to increase, there is a segment of the population that does not even see the dentist.  According to the latest data from the Centers for Disease Control and Prevention, nearly 40 percent of adults aged 65 and over didn't visit a dentist in the past year.  To top that off, nearly 70% of these same seniors do not have dental coverage.  The most frequently cited reason is cost.
But what are you really saving when you do not visit a dentist for your regular checkups?  For one thing, as you age, chance are you take more prescription medications.  The side effects of these medications may cause a decrease in saliva, leading to tooth decay.  Or worse yet, they may deplete your body's supply of all-important minerals that keep your teeth hard and healthy.
Further, the effects of a lack of dental care extend beyond the mouth and surrounding tissues.  Added risk to seniors with poor oral care include: cardiovascular disease, dementia, respiratory infections, diabetes, erectile dysfunction, cancer, kidney disease and rheumatoid arthritis.
If cost is an issue, there are ways to reduce the impact of dental care on your finances.
Join a dental savings plan: For many seniors, these non-insurance membership programs can fill the dental care gap in Medicare coverage. With a low-cost dental savings plan, you'll save anywhere from 10% to 60% off the regular cost of procedures. Also, there are no waiting periods or annual limits. Many plans include discounts on dentures and other services excluded from Medicare, like eye exams and hearing aids.  You can learn more about dental savings plans at ConsumerHealthAlliance.org.
Find a dental savings plan: The easiest way to search for plan options is to go directly to trusted companies and plans online at :DentalPlans, Careington, Carefree Dental and New Benefits. You'll also find dental savings plans being offered by employers to employees, banks to customers and associations to members.
Go to a local dental school: Many universities have a college of dentistry with a dental clinic for the public. The cost for services is typically a fraction of what you would pay at a private practice. You can check out this listing from American Student Dental Association to see if there is a dental school in your area and visit their website to learn more.
If you go to a dental school, keep in mind: It's high-quality care done by students-in-training and under the guidance of dental professional instructors, so your appointments will take more time to complete. There also might be a waiting list to get in or you might not be accepted for full treatment after an initial exam.
Check your costs: You can lookup "fair" prices for procedures in your area using FAIR Health's free Dental Cost Lookup tool. If the cost estimate seems high, you may want to consider getting a second estimate from another dentist. You can also use this tool to plan for out-of-pocket costs for procedures you know you need to have done.
For veterans: Dental benefits are provided by the Department of Veterans Affairs (VA). In some instances, the VA is authorized to provide extensive dental care, while in other cases treatment may be limited. If you're a veteran, visit the VA online to see what dental care services you may be eligible for.
Talk to your dentist:Ask your dentist for a discount or options to pay over time. Some practices might even offer a small discount for referrals or if you're paying upfront with cash. You can also look up fair prices for dental procedures in your area using FAIR Health's Consumer Cost Lookup tool. If your estimate seems high, contact other dentists in your area for a quote.
The bottom line is that when it comes down to it, you can't afford NOT to see a dentist.  Give us a call today and let's see how we can help at 707-422-7633.  For more information about the health impacts of dental care, see this article in Forbes.
Request Appointment