Brusheez App for Kids Makes Toothbrushing More Fun!Dec 07 2017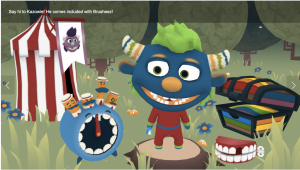 Brusheez by Shondicon is a universal iOS app (meaning it works on iPhone, iPad, and iPod) available for free download on the App Store now.  It allows up to four user accounts as an In-App purchase, but is plenty fun in single user mode.  This app was developed by a dad who was tired of the constant struggle to get his kids to brush their teeth.  The basic concept is built around selecting one of  the whimsical characters who can jump, flip, giggle, wiggle, gasp and go dizzy. You can also change their haircolor and turn their teeth on and off.  The brushing aid is in the form of a timer that is accompanied by a very catchy song and dance.  The information from the developer's website tells you how to:
- Pick a pal by tapping the tent or flag (two pals are included with download!)
- Tap the tummy or head for a variety of animations
- Drag on the ground to spin the camera around or tap the trees for some leaves
- Choose colors by tapping the treasure chest and the corresponding buttons
- Drag on the screen while floating to spin the pal and try to make them dizzy
- Tap the wind-up teeth then tap the pal's teeth to switch them on or off
- Tap the clock and the up or down buttons to change from the default two-minute timer
- Get ready to brush and tap the go button on the timer to start the timer and music
- Tap anywhere on screen while brushing to pause the timer for spitting or whatevs
- If multiple users are unlocked, settings for each user's characters will automatically be saved
- Tap the user color icon at the start screen or in the top right to change users
- To unlock previous purchases, tap the button in the lower left, then tap "Restore Purchases"
We give this app a two thumbs up, because it encourages children to brush longer.  Give it a try today!
Request Appointment